3D Printed House – The future of construction
3D Printed house is the new buzz in the construction market they do not have a very long history although the history of 3D printing is long and what 3D printing have achieved in the last 15 years is really amazing.
Building construction using 3D printing – Introduction
There are actually many methods of printing a building (3D printed house or other kind of building) and they vary according to the requirement and time available but they use the fundamental principle of 3D printing. Two main methods are:
extrusion (Mainly uses concrete, wax or foam)
Powder Bonding ( Mainly uses polymer bond, reactive bond and sintering )
Without going in further theoretical details let's have look at below video, you will see how it actually works. The video belongs to Wasp, an Italian company that created a 3D printed house using mud with the help of a 3D printer called Crane WASP. They claim that They built this house for just $1000. Most printers work in the same manner but construction material varies (most of the time it is concrete).
Some of the best 3D printed houses :
Below are some best of 3D printed houses, there are many more but these have attracted the attention of the world
Apis Cor's House :
Apis cor is one of the pioneer companies that developed a c3D printer which is capable of printing a whole building completely onsite.
The house shown in the above picture is a demo house built by the company using their construction 3D printer on an area of 410 Sq feet in just $10,500, This cost includes the following :
The details are based on data mentioned in Apis Cor's website
Foundation: $277
Walls: $1624
Floor and roof: $2434
Windows and doors: $3548
Exterior finishing: $831
Interior finishing (including the suspended ceiling): $1178
Wiring: $242
The company built this stylish house and also put furniture, TV and other decorative stuff to make it look like more promising, though costing of the furniture and all is not included in the above mentioned pricing
ICON – A House under $4000?
ICON focused on building low-cost construction solutions and for the same reason, they demonstrated the above house
The actual cost of the prototype of 3D printed house is approx $1000 but the company has claimed that they can build such houses for as low as $4000 which is a great news.
ICON also plans to build such low-cost 3D printed houses for people who don't have proper housing in El Salvador,to serve the same purpose they have collaborated with a non profit organisation – New Story.

Winsun – 10 Houses in One Day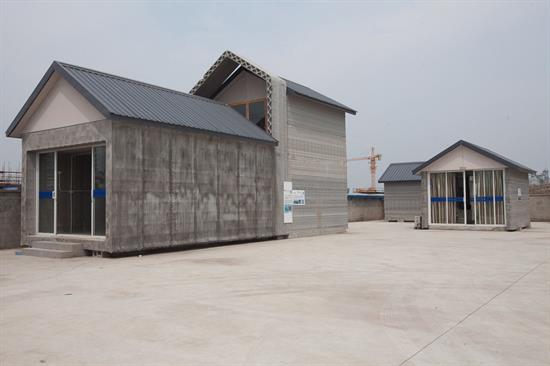 Winsun – A Shanghai-based Chinese company successfully achieved the target of building 10 houses 3D printed in one day and they did it in the year 2014. The company used a large-sized 3D printer to build such houses, their printers were 10 meters wide and 6.6 meters tall.
The quality of their 3D printed houses is not as good as today's 3D printed houses but what they achieved back then was surprisingly great, Also the per house cost was nearly $4,800 which can be considered low as it was the primary phase of 3D printed houses
DUBAI's Office Building :The modern office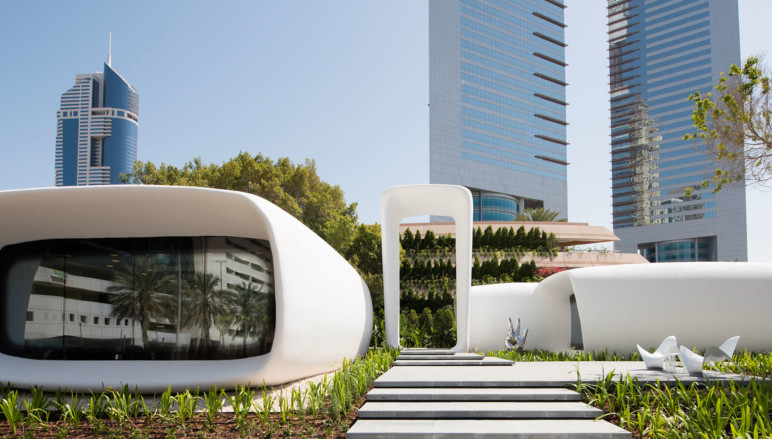 The building shown above has been built by Wilson in only 17 days!

This is actually an office building in Dubai for Dubai Future Foundation. As we have discussed 3D printing proves to be cost-effective and so in this case too. The total cost of this building was around $140,000, It may sound expensive but if the same building were to build using traditional methods it would have been more expensive
The future of 3D construction
Many companies are adopting 3D printing as their construction method and if not soon then in 10-20 year, we might see a change in construction industry.
3D printed houses are in their early phase today and are really impressive, they might replace the traditional methods of building construction, although it would take longer than what it looks like. 3D printing has some additional benefits other than cost, labor, and timing. 3D printed construction reduces the waste material and the build quality is of a higher grade.
There is a theory that aims at building colonies on the moon using 3D printers. As the cost of transporting materials for traditional construction would be high and it would not be a feasible idea but with 3D printing robots, we can use the lunar soil or the resources available there only to make it possible without transporting the construction material and manpower. 3D printing is the future!
Source: Basically the information has been taken from the companies respective websites and Wikipedia: https://en.wikipedia.org/wiki/Construction_3D_printing.
You may also like other of our articles : http://softcaliber.com/blog